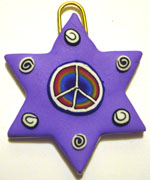 I stumbled into the website for Pet Tag Creations the other day, and was pleasantly surprised to see that they are not in business only to make money.  Although they state on their site that they are interested in earning a living, they are also concerned with the plight of dogs in shelters.  So, they partner with many shelters and provide a portion of their profits to the shelter designated by anyone who buys tags through them.
The tags are hand-crafted right here in the good old USA (Baltimore, MD) and are just beautiful.  Most cost about $17.
Until next time,
Good day, and good dog!
Similar Posts: