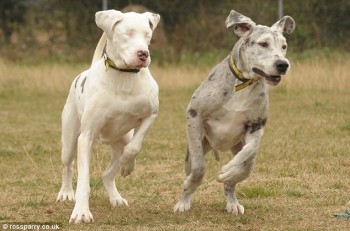 PetFinder's Shelter Center is having issues today, but I did find this sweet story for you in London's Daily Mail online.
Lily, the white dog pictured on the left, is blind.  Maddison, the grey dog shown on the right, is her seeing eye dog.  These two dogs were fast friends, even before vets were forced to remove Lily's eyes due to an illness.  But after the procedure, Maddison stepped right up to serve as her guide dog.  However, the dogs' family couldn't cope with two big dogs, one of whom was disabled, so the pair have been waiting for a new home at the Dogs Trust Re-homing Centre in Shrewsbury since July.
Lily is now six, but had her eyes removed as a puppy when her eyelashes grew into the eyeballs and damaged them.  Here's what the shelter's manager, Louise Campbell has to say about these gentle giants.
"They are really happy with life, the glass is always half full with these two.  They have been with us for a considerable amount of time but they are quite happy and go about their daily routine – they are very affectionate. They curl up together to go to sleep and they are very vocal with each other.  They are very close to one another and enjoy each others company.  Lily does all the things normal dogs do and if you saw her from a distance you wouldn't realise she had anything wrong with her eyes."
If you're in the UK and have a big yard, why not contact the Dog's Trust to meet Lily, Maddison, and all of their friends.  Call 01952 770225.
If you're somewhere else, check out PetFinder's Shelter Center (when it comes back up) to locate adoptable dogs near you.
Until next time,
Good day, and good dog!
Similar Posts: