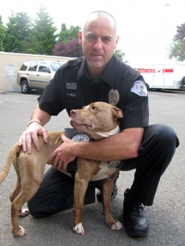 Shaka, an American Staffordshire Terrier, was abandoned by her owner to New York's death row several years ago, but she was rescued before they had a chance to euthanize her. She found new purpose as a police dog and is now a key weapon in the Milwaukee PD's war on drugs, where she was successful in 18 of her first 20 searches.
Read the whole story in the Clackamas Review.
Until next time,
Good day, and good dog!

Similar Posts: