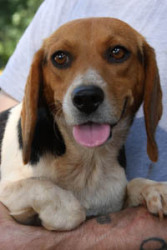 Dog bites account for about one-third of all homeowner's insurance claims, and each claim pays out, on average, over $25,000.  No wonder some smaller insurance companies are trying to mitigate the risk by refusing to cover homeowners who own breeds that frequently bite.
Most large insurance companies do not discriminate by breed, but many smaller companies take a good hard look at statistics about biting breeds, and make their coverage decisions based on these lists.  The problem is, they may not tell you which list they are using, making it hard for you to dispute their denial of coverage.
For example, in one recent year, the Journal of Applied Animal Behavior pegs Dachshunds, Chihuahuas, and Jack Russells as the breeds most likely to bite.  At the same time, the University of Pennsylvania's Center for the Interaction of Animals and Society says Labradors and Golden Retrievers are the culprits to watch out for.
Some lists cover just one region of the country, while others use nationwide statistics.  Some lists look only at the total number of bites, meaning that the more popular dogs will show up higher on the list, simply because there are so many more of them.   For example, if there are 1,000 Golden Retrievers in your area and only 3 Vizslas, you are much more likely to get bitten by a Golden, even though neither the Golden nor the Vizsla is typically aggressive.
What can you do?
First of all, do your research before you get a dog.  Obviously, you won't be wanting a dog that bites any more than your insurance company does, so make sure you find a breed that you are comfortable to have around your family.  Keep any information you used during your search in case your insurance broker has questions.  You may be able to influence his decisions by showing your research results.
Shop around when you look for insurance.  Larger companies are less likely to discriminate by breed than are smaller companies.  And between small companies, there is likely to be a vast difference in which breeds they consider dangerous.
Consider taking out an umbrella policy that covers things outside the scope of your normal homeowner's policy.  Umbrella policies typically cost about $20 per month.
Above all, make sure you are honest with your insurance agent.  If you tell him you don't have a dog, then try to file a claim for a dog bite, the claim could easily be denied.
Until next time,
Good day, and good dog!
Similar Posts: