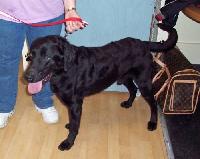 Meet Hondo! (Wasn't he a character on that old SWAT show?) This handsome black lab is being fostered by Nuts for Mutts in Rochester, NY. Here's what their website has to say about him.

Hondo is about 9 years young and oh so ready for you to find him and bring him home.
Hondo has been in rescue for some time, just waiting and hoping that his perfect match is out there. We won't give up and neither will he!! Hondo is our… diamond in the rough and is waiting for you to come and save him from his life as a rescue dog. If you are willing to bring him home and help smooth out his rough edges, we know that he will make you glad that you did. This sweet boy deserves someone to give him the time and love he's lacked all his life.
If you're near Rochester, why not contact Nuts about Mutts and arrange to meet Hondo and all of his friends. Call 585-210-DOGS (3647).
If you're somewhere else, check out PetFinder's Shelter Center to find an adoptable dog near you.
Until next time,
Good day, and good dog!

Similar Posts: