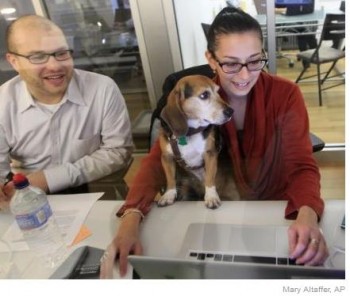 Are you able to take your dog to work on any old day? Lucky you! For the rest of us, we might be able to convince the boss to let us celebrate National Take Your Dog to Work Day this Friday, June 22nd.

What's the etiquette? Of course, you will be expected to keep your dog quiet and away from anyone who might not appreciate his unique treasures. You might want to take your dog into the office for the first time on an evening when no one else is there, just to make sure he doesn't start howling whenever the printer fires up or marking all of the desk legs.
USA Today had some good guidelines in an article last February, and the official website of National Take Your Dog to Work Day has even more advice.
Send us pix if you take your dog in!
Until next time,
Good day, and good dog!
Similar Posts: