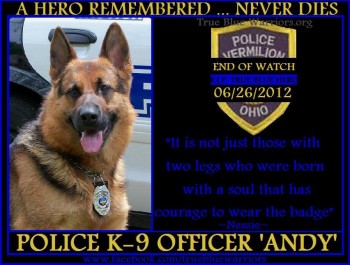 I think it's sweet that the True Blue Warriors Facebook page that honors police officers killed in the line of duty also honors K-9 officers who have fallen. One recent warrior whose life was recently taken was Andy, of the Vermillion (Ohio) PD.
Thanks, True Blue Warriors, for understanding and recognizing the sacrifice of your 4-legged officers, as well as the 2-legged ones.
Until next time,
Good day, and good dog!
Similar Posts: