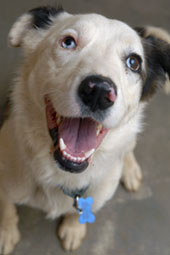 Meet Tahiti! This beautiful Australian Shepherd is currently living in foster car with Best Friends Animal Society in Kanab, Utah. Here's what their website has to say about her:

Tahiti is a gorgeous and striking dog. Talk about an attention-getter! She's young, born in just 2007, and she likes to play, run, and have lots of fun.
She startles easily and protects her food dish, so she's considered a grown-up's dog. But there's such a loyalty there – such a desire to find someone and look after them and devote herself entirely to them. She would be a faithful companion to the extreme!
She's hit-or-miss with other dogs. She gets along beautifully with some, and not at all with others. She's a terrific, easy leash walker, and has so much fun on hikes and play dates. However, Tahiti does not get along well with cats.
Tahiti just wants a friend who will accept her – and place where she can be faithful and belong.
If you're going to be near Tahiti, why not contact Best Friends Animal Society to arrange a time when you can meet Tahiti and all of her friends. Send an e-mail to [email protected] , call (435) 644-2001, or fill out an online adoption application.
If you're somewhere else, check out Petfinder's Shelter Center to find adoptable dogs near you.
Until next time,
Good day, and good dog!
Similar Posts: