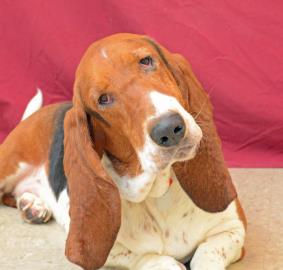 We're taking our baseball show on the road this week for the state Challenger tournament in Butler County, Ohio, so I chose a shelter there to feature today.

Meet Wilson! No, not the volleyball, but the cutest Basset Hound you'll ever see. He is currently living at the Animal Friends Humane Society shelter in Butler County, Ohio. According to their website, this beautiful animal is a purebred male Basset, four years old and neutered. His ID number is 20395984.
If you've never lived with a Basset Hound, boy are you in for a treat! These dogs are low shedders and are happy without lots of room to romp – perfect for a small apartment. And they have the most delightful bay, rather than a typical bark. You just gotta love 'em!
On a typical day, Animal Friends Humane Society houses between 200 and 300 dogs and cats in their new facility. They are Butler County's largest and oldest non-profit animal shelter.
If you're going to be in Southwestern Ohio, why not contact Animal Friends and ask to meet Wilson and all of his friends. Send an e-mail to [email protected] or call (513) 867-5727. And while you're in the neighborhood, swing by Waterworks Park on Saturday (7/20/13) to check out all the baseball action from the teams with the biggest hearts in all of Little League!
If you're somewhere else, check out Petfinder.com's Shelter Center to find adoptable dogs near you.
Until next time,
Good day, and good dog!
Similar Posts: