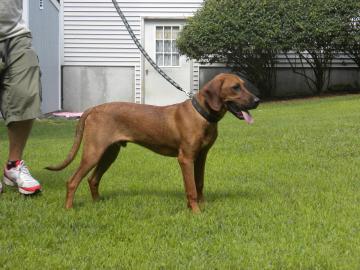 Meet Rex! Rex currently lives in Douglas, MA, a guest of the Dog Orphans Humane Society. Here's what their website has to say about him.

Hi, my name is Rex. I am a 11 mth Redbone Coonhound that has just been returned to the shelter. I am a good dog but can be food aggressive and I can be over excited with a young child. I am your typical coonhound that needs lots of exercise and may do well with older, considerate children.
I just need an experienced owner, someone that can handle my temperament. Any hunters out there? If I do say so myself, I really am very intelligent and just need some loving guidance. Please call or stop by the shelter if I sound like the friend for you.I am eagerly waiting!
Wow! That Rex is a really good writer for a dog! Must be a friend of Snoopy's ("It was a dark and stormy night…")
If you're near Massachusetts, why not set up a meet and greet with Rex and all of his friends. You can send an e-mail to [email protected] or call 508.476.1855.
If you're somewhere else, check out PetFinder's Shelter Center to find adoptable dogs near you.
Until next time,
Good day, and good dog!

Similar Posts: