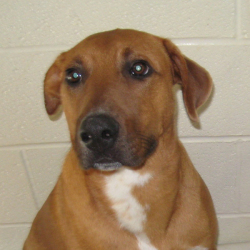 Meet Jobo!  Jobo is currently living at the Barren River Animal Welfare Association (BRAWA) shelter.  For a dog, he is a GREAT writer, and posted the following on the shelter website:
I am only about 1 year old, known at the shelter as the dog who is always very friendly and playful. You will see that immediately when you peer into my cage. Hopefully you will be so impressed you will want to go into a room with me for us to get acquainted or even for a walk. Be sure and put me on your list of "MUST SEE" before deciding on your family pet.
You can learn more about the shelter by visiting their Facebook page.
I got a kick out of one of the upcoming events they will be having to raise funds.  The county public defender's office has teamed with the shelter to present a "Jail Break 5K."  Registration fees for the event are donated to the shelter.  How fun!
So, if you're going to be near Glasgow, why not contact BRAWA and have a look at Jobo and all of his friends.  You can call them at (270) 651-7297 or send an e-mail to brawa AT glasgow-ky DOT com.
If you're somewhere else, stop by PetFinder's Shelter Center to see adoptable animals in your neck of the woods.
Until next time,
Good day, and good dog!
Similar Posts: