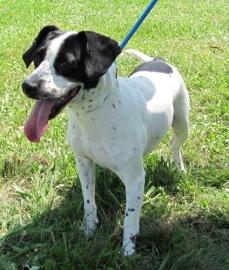 Meet Penelope! I picked her over all the other dogs at the Blue Ridge Humane Society, because really, what better name is there for a dog than Penelope? This 5-year old Pointer / Beagle mix has been living in Hendersonville, NC at the Blue Ridge Humane Society since May. Here's what their website has to say about her.

Penelope is big on smiles. Around people her happiness radiates, and lucky for us her happiness is quite contagious. She embodies that small dog energy and the Pointer's ability and willingness to focus. She is a joy to be around and loves attention, but she will need to be adopted into a one dog only family.
If you're going to be near North Carolina, why not contact the shelter and ask to meet Penelope and all of her friends? Call them at 828-685-7107 or fill out the online form.
If you're somewhere else, check out Petfinder's Shelter Center to find adoptable dogs near you.
Until next time,
Good day, and good dog!
Similar Posts: