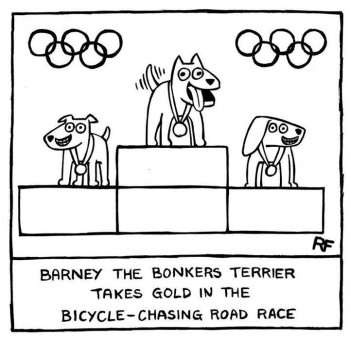 In honor of the Olympics in London, we present the top ten things overheard at the recent (though totally unpublicized) Dog Olympics.

10. "I'm just glad we all made it out of Beijing without being eaten."
9. "No, Spot. That's my tennis ball."
8. "Why are you running around in circles on the track?" "I dunno. Why do you run around in circles before you lay down?"
7. "That butterfly stroke is a little harder than it looks. I prefer the dog paddle."
6. "It's much more fun to chase bikes than to ride them."
5. "Who wants to row when you can just swim up the river?"
4. "Dream Team, Schmeam Team. We've got Air Buddy."
3. "Watch where you're pointing that javelin, mister."
2. "I'm sorry, but I still think the ability to lick your own groin ought to qualify as an Olympic sport."
1. "Sure, everybody's impressed when the horse dances, but can he sing?"
Until next time,
Good day, and good dog!

Similar Posts: