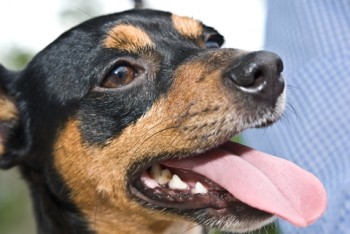 Your dog can most definitely get heatstroke if you don't take the proper care to keep him or her shaded from the extreme heat. Most parts of the country are experiencing record temperatures, which means we all need to be a little more vigilant in protecting our dogs.

The most important thing you can do to keep your dog safe from the heat is to limit his or her time outdoors. Your dog really doesn't need to spend the whole day outside, as long as you provide frequent restroom breaks at regular intervals. Other than that, most dogs would rather spend time inside, enjoying the A/C with you and the rest of the family.
Take your daily walk early in the morning, rather than in the heat of the day when you get home from work. Both you and the dog will enjoy it more then.
If your dog has to be outside for an extended period of time, make sure you provide access to two life-saving things: shade and clean water. Just as you do, your dog needs to stay properly hydrated and have respite from the sun. Check out our ice toy treat.
If your dog has long, thick hair, you might consider a different hairstyle for the summer, but don't shave your dog unless you can provide a way to prevent sunburn, as well.
Learn to recognize the symptoms and risks of heatstroke on DogTipper.
Until next time,
Good day, and good dog!
Similar Posts: