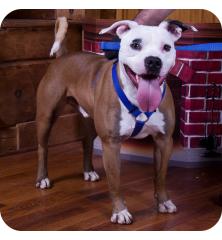 Meet Bailey! This beautiful 1-year old Boxer / Pit mix is currently residing in Aldie, VA courtesy of Friends of Homeless Animals. Here's what their website has to say about him:

Did someone say play? Well, bring it on cuz that's what I'm all about. I'm an outgoing and friendly guy named Bailey. One of my favorite games is tug-of-war and I'm real good at it too! But I'll let you win sometimes if you want. I'm good with other dogs, I already know how to sit, and I take treats very gently. I look like a big tough guy, right? But I've got the sissiest little bark. You hear it, and you look at me, and you're like, no way did that sound just come out of your mouth! I'm a very active boy, so I'll need a family that's pretty active too! I'm strong on the leash, but I listen so well, and I know I can learn anything you want to teach me. I love attention and I really like to have my ears rubbed. My coat is so soft, it's just like petting a bunny rabbit, so I've been told, because I've never really petted one. I get excited a lot, but the best way to calm me down is to ask me to sit and talk to me in a calm soothing voice; and to teach me that it's okay to relax once in a while because I'm safe now, and everyone loves me. I'm a great boy. I'm like a diamond in the ruff. Get it, "ruff", cuz I'm a dog, and we say ruff? Okay, anyway, I'd love the chance to meet you and become a part of your family.
If you're in the metro DC area, why not contact Friends of Homeless Animals and ask to meet Bailey and all of his friends. Call 703-385-0224, send an e-mail to [email protected] or fill out an online application.
If you're somewhere else, check out PetFinder's Shelter Center to locate adoptable dogs near you.
Until next time,
Good day, and good dog!
Similar Posts: