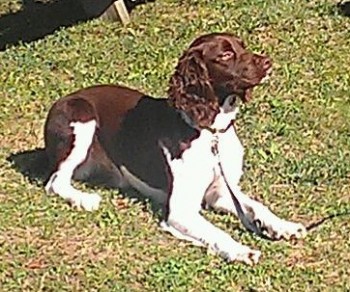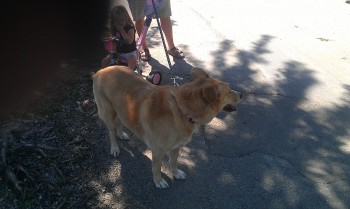 We spent this past weekend at beautiful Tall Timbers Campground in Port Clinton, Ohio. I never thought about it, but a trailer park is a wonderful place to vacation with your dog.
Virtually all of our neighbors had one (or more!) Of course, I only got pictures of a couple of them. In my defense, I was on vacation, so I didn't have my phone with me all the time. Pictured are JD, the spaniel from across the road, and Nellie, who was out walking with her dad Sunday morning. I also saw two very cute standard poodles riding the back of a golf cart, and a gorgeous black lab out for a walk. On another golf cart was a cute-as-a-button Boston Terrier. Our next door neighbors had a beautiful Beagle named Mandy with them.
The dog I really wanted to show you, but of course I couldn't get to my phone in time and must not have done it right on my friend's phone, was Mayer (as in Oscar), the wiener dog, being walked by 2-year old grace. I'm not sure which of them was cuter.
Thanks to all at Tall Timbers for your hospitality!
Until next time,
Good day, and good dog!

Similar Posts: