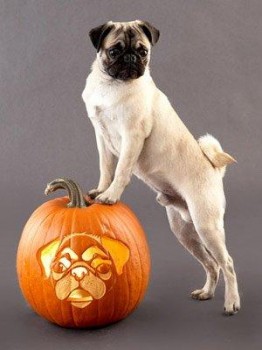 The day of haunting is here. How will you keep your dog safe and happy throughout this day?

5. Check out the costume tolerance before the big event. Some dogs will love costumes. Some, not so much. Before you force your dog into a costume for a parade or party, make sure which category he or she is in.
4. Hide the candy! Although dogs love a lot of the ingredients in your candy bowl, some of them aren't going to love your dog. In particular, make sure you keep the chocolate away from your four-legged friends. In large doses, it can be toxic.
3. Separate the dog from the trick-or-treaters. Having strangers in weird costumes coming to your door every five seconds may be just too stressful for your dog. Try putting him or her in a room far from the door, and consider turning on a TV or radio to drown out the sounds the little munchkins will make.
2. Keep your dog indoors when possible. It's not just black cats that need to be hidden during this particular holiday. Kids and kooks are not necessarily picky when looking for a sacrificial animal.
1. Keep your jack-o-lanterns away from the dog. Spooky, or even cute, jack-o-lanterns add a lot of fun to your Halloween celebration, but if you're using real candles inside, make sure you put the pumpkins where your dog cannot get burnt or tip the pumpkins over to cause a fire.
Enjoy Halloween!
Until next time,
Good day, and good dog!

Similar Posts: