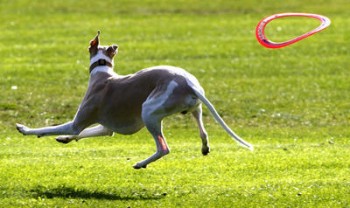 Well, Rocket tried, but he couldn't get it done. A 6-year old Whippet, Rocket has in the past caught an object thrown 120 meters. However, when they tried to make it happen for the Guinness judges, he and distance hurler Erin Hemmings just couldn't make the connection.

The record, for farthest thrown object caught by a dog, stands at 118.9 meters. The object in question? An Aerobie flying ring invented by Stanford engineering lecturer Alan Adler.
Rocket lives with Glenn Greer-Meyer, who says that the breed has been known to run up to 38 miles an hour, the fastest for land animals of their size. However, when they tried for the record, it appears that the 6-weeks or so that thrower and catcher have been working together just weren't enough.
It took several tries to "get in the groove," and by the time they were on the same page, Rocket was getting tired.
So, it appears 118.9 meters is still the distance to beat. Any takers?
Until next time,
Good day, and good dog!
Similar Posts: