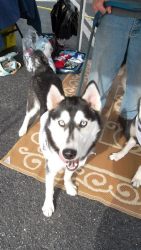 Meet Buster! This beautiful boy is living at Husky Haven in Clearwater, Florida. Their website doesn't have a lot to say about him, but we do know this:

Buster is a young medium-sized male who is neutered, up-to-date on his shots, and house-trained. He's not a big fan of cats.
If you've never been around a Husky before, you need to know that these are very high energy dogs. They need to be walked daily by someone who knows that the dog is most definitely not the boss. This is the breed that can take you airborne, they pull so hard. I have a friend who actually dislocated her shoulder while walking her Husky.
These dogs have one purpose: speed. You'll need a large yard and a lot of patience. In addition, as you might expect because they're native to Siberia, they do best in cooler climates. This is not a dog you can leave outdoors during the summer if you live anywhere in the states other than the northernmost portions of states like Michigan, Wisconsin, and Minnesota.
If you're going to be near Florida, why not contact Husky Haven and ask to meet Buster and all of his friends? Send them a note or fill out an adoption application.
If you're somewhere else, check out PetFinder's Shelter Center to find adoptable dogs near you.
Until next time,
Good day, and good dog!
Similar Posts: