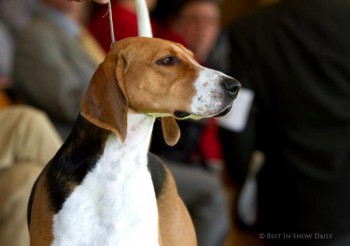 So, it's time once again for me to make my picks for the grandaddy of all dog shows, the Westminster Kennel Club's 137th Annual extravaganza. (Keep in mind that I am VERY seldom right – probably because I pick based on my favorite breeds and the cleverness of the name!)

In the Sporting Group: GCH CH Northwoods Send Money Honey, a Weim more commonly known as Schatze Page.
In the Hound Group: GCH CH Kiarry's Pandora' Box, an American Foxhound
In the Working Group: GCH CH Longo Miller N Lore's Diamond Lil, a black Great Dane who answers to the call name of Scout.
In the Terrier Group: GCH CH Alpine's Highwayman, an American Staffordshire who goes by the name of Jelly.
In the Toy Group: GCH CH Windemere's Dusting of White at Pveyne, a little Peke they call Dusty.
In the Non-Sporting Group: GCH CH Itsa Brix, a Bulldog called Brix.
In the Herding Group: GCH CH Babheim's Captain Crunch, better known as Capi, a German Shepherd.
And my pick for Best in Show? Of course, I'm going with the hound! I gotta stick with my favorite, even though hounds virtually NEVER win!
Good luck to all of the competitors!
Until next time,
Good day, and good dog!
Similar Posts: