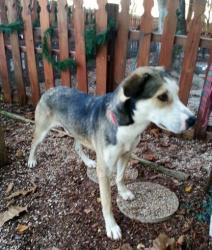 Meet Cody! This beautiful Husky / Lab mix is living in Baton Rouge, LA with the Companion Animal Alliance. Here's what their website has to say about him.

Once I am out of my kennel here at the shelter (I am not a fan of it), I am so happy to just enjoy the sunshine and grass. I do very well once we get going. I am good a leash once we get outside (although I am unhappy when I realize it is time to go inside I am still a good boy). I am also very trusting. I like kids, and I love meeting new people. I am an all around good dog. I need to go to a good home. I am very submissive and kind. I am a pretty good sized boy but I still like to be held. It's a testament to how trusting of people I am. My last handler (a girl no less) was told she couldn't pick me up and hold me, her response was "Challenge. Acc-ept-ed!!" and she picked my (slightly) heavy self up and spun me all around. I am awesome and would love to go home with you today!
If you're going to be near Louisiana, why not contact Companion Animals Alliance and ask to meet Cody and all of his friends.
If you're somewhere else, check out the Shelter and Rescue area on PetFinder.com to find an adoptable dog near you.
Until next time,
Good day, and good dog!
Similar Posts: