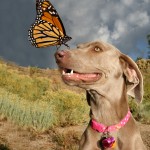 Meet Bambi!  This beautiful Weim is in the care of Tickled Pink Weimaraner Rescue in Albuquerque, NM, and is in need of either a foster home or a forever home.
Here's what their website has to say about her:  Meet Bambi! To know her is to love her, and as you can see – she's quite a looker, and a very happy girl. She is only about 14 months old, but this little doe is all grown up and has lost her spots, er, stripes. Bambi left her old home in the streets and cold forests to live in foster care in Albuquerque, New Mexico, where it's warm and loving; she has not looked back. (She was never very good at skating on those icy ponds anyway.) Her best friends Flower and Thumper followed her, and she even brought her friend Butterfly! Bambi had been picked up as a stray by a shelter in Las Cruces, New Mexico, but had a registered microchip. Her owner had moved and decided that she didn't want to reclaim her dog. What a loss for that person! Bambi is incredibly sweet and wonderful with other dogs and children. She is a bit submissive with humans at first, but quickly warms up. It is thought that Bambi was excessively yelled at and possibly hit, so it would be best for Bambi to find a home where there wasn't a whole lot of loud noises.
If you're near ABQ, why not contact the shelter to arrange a time to meet Bambi  and her friends.  If you're somewhere else, stop by PetFinder's Shelter Center to find adoptable dogs near you.
Until next time,
Good day, and good dog!
Similar Posts: