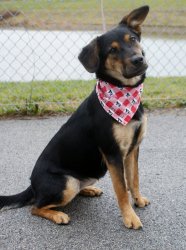 Meet Karma! This beautiful Shepherd / Hound mix is living in foster care in Batesville, Indiana with People Assisting Animals in Need. Here's what their website has to say about this cutie:

Karma originally showed up as a stray at a llama farm. The people there liked her and kept her for a week, hoping that someone was looking for her. When nobody came forward, she was taken to animal control since the family already had dogs of their own. She didn't enjoy her shelter stay very much and was taken into rescue and foster care. Karma is an outgoing, confident, friendly dog and very much a social butterfly. She hasn't met a person she doesn't like and is happiest spending time with hers. Karma does well with children, cats, and other dogs. She is playful, but not rowdy, and doesn't get too rough. Karma appears to be housebroken and hasn't shown any destructive behaviors in her foster home. She loves car rides and learned "sit" very quickly. She isn't crazy about being crated, although she is during the day. It will take a little time and patience for Karma to be comfortable in a crate.
So, if Karma is your karma and you'll be in the Indiana area, why not contact People Assisting Animals in Need to find out more about Karma and all of her friends. Send an e-mail to [email protected] or fill out an online application.
If you're somewhere else, check out PetFinder's Shelter Center for adoptable dogs near you.
Until next time,
Good day, and good dog!
Similar Posts: