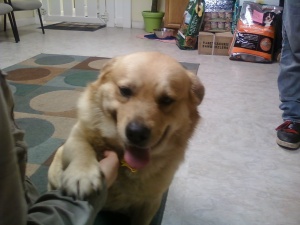 This week's featured dog is Richie, a Corgie mix currently housed at Roxie's Fund, Inc. in Silver Spring, MD.
He is a Very Friendly guy, can be a tad shy at times meeting new people, but always warms right up! He is great with other dogs and plays and interacts well with with his fur foster sister brother!
His foster mom is taking him on lots of car rides and going on trips to get Richie used to car rides! He seems to be well behaved in the house and seems to have pretty good house manners!
Richie has spent time at Doggie Day Care and Loved playing with all the doggie's there also! He would do well in just about any environment and make a great family companion.
He is a herding breed, so a home with no cats would probably be best suited for Richie. Please call today to visit Richie and he will certainly melt your heart.
If you're near Silver Spring, contact Roxie's Fund at:   for DOT roxiesfund AT verizon.net.  And if you're not, find a shelter near you at PetFinders.
Until next time,
Good day, and good dog!

Similar Posts: