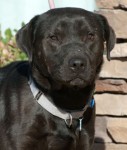 Meet Ben! This beautiful adult lab mix is currently living in a boarding facility in New Mexico, compliments of New Mexico Dogs Deserve Better. Here's what their website has to say about him.

Ben came from a less than wonderful "rescue" in FL, where he had been stashed after being pulled from a high kill gassing pound in SC. He spent nearly a year there and he was deteriorating at an alarming rate. We were contacted about Ben after we rescued another dog from this same place earlier in the year. You can see from the picture of myself and Ben how HAPPY he was to get to us here at NMDDB! It was no easy feat to get Ben out of there and all the way to us in NM, but with the help of some very wonderful folks, we were able to pull it off! Now Ben has come to know what love is and finally feels safe. He has been to the vet, has been neutered and has received a full medical clearance for adoption! Unfortunately, we did not have a foster home available for this LOVE of a DOG, so Ben is currently in boarding. We would love, more than ANYTHING for him to find a foster or forever HOME of his very own. Ben is approximately 3 years old, walks great on a leash, enjoys being with people MORE THAN ANYTHING and is good with other friendly dogs with the right introduction. Ben enjoys just spending quality time with his humans and will sit quietly by while you read, work on the computer or watch a movie. Ben also enjoys going for rides in the car and is very well behaved. We ask that anyone consider fostering or adopting our Gentle Ben have a secure fenced in yard where he will not be left out alone for extended periods of time. He LOVES more than anything in the world…the company of his human friends. And if he is not with them, he will go looking. Our IDEAL situation for Ben would be someone that works from home, or someone that can take Ben to work with them. He has been alone fro enough of his life & we think he may be making up for lost time 🙂 But the person that is lucky enough to share their life with this INCREDIBLE & sensitive boy, will indeed be blessed with loyalty & gratitude 100 times over. Ben is what I refer to as a SOUL DOG.
If you're going to be near New Mexico, why not contact the shelter to find out more about Ben and all of his friends. Fill out an online application, send an e-mail to [email protected], or call 505-974-4733.
If you're somewhere else, check out PetFinder's Shelter Center for adoptable dogs near you.
Until next time,
Good day, and good dog!
Similar Posts: