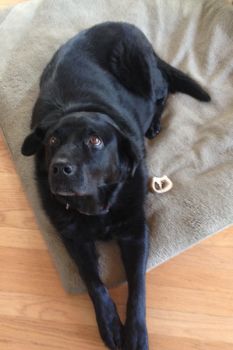 Meet Lilly! This beautiful Black Lab is being fostered by Good Samaritan Pet Center in Denver, Colorado. Here's what their website has to say about this senior dog.

Lilly is a great black lab mix looking for a home. She is eleven years old and weighs 65 pounds. She gets along famously with the other dogs in her foster home. She loves going on short walks (6 or 7 blocks is good). Stairs are a bit of a challenge for her due to arthritis, so a home without too many stairs would be great. She is a well mannered girl. Lilly would love to find a Forever Home where she can enjoy cozy afternoon naps on a soft cushy dog bed. She will be a wonderful companion and is very low maintenance. She has been spayed and is up to date on shots.
If you're going to be near Denver, why not contact Good Sam to find out more about Lilly and all of her friends. Call Dave at 303-888-2656 or fill out an online adoption application
If you're somewhere else, check out PetFinder's Shelter Center to find adoptable dogs near you.
Until next time,
Good day, and good dog!
Similar Posts: