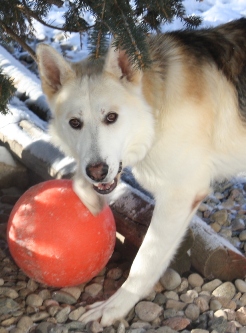 Meet Timber.  (Isn't that a great name for a dog?)
Here's what Snow Capped Shepherd Rescue in Denver, Colorado has to say about him:  Hi!  My name is Timber.  Left at a shelter, I sadly waited and waited for a new family to find me.  Sadly no one came, but thankfully my picture and story made it to my new friends at SCSR before my time was up.  Next thing I know, I was on a transport on my way to Colorado and on to a new life.  And now that you've found me – hopefully I will find my way into your heart and home.  I am a fun-loving, playful young man.  I get along great with other dogs, but cats are a little too interesting (and fast!).  I am affectionate and very smart.  I have more to learn and am looking for a patient guardian to help see me through life – we'll handle all the good and the occasional bad, together – OK?  Please apply today! (Timber: German Shepherd Mix, Male, Black, Tan and White, DOB 09/08), ~80 lbs.)
Snow Capped Shepherd Rescue is a Denver, Colorado based, volunteer-run non-profit 501(c)(3) organization.  They rescue abandoned, abused, neglected and stray White German Shepherds and German Shepherd mixes.  They don't have a shelter, instead all of the rescued dogs are housed with caring foster families…a temporary stop on their way to happily-ever-after.
If you're near Denver, why not make an appointment to see if Timber or one of the other great dogs fostered by Snow Capped Shepherd Rescue.  And if you're not near Denver, check out the available animals near you by visiting Petfinder's Shelter Center.
Until next time,
Good day, and good dog!
Similar Posts: