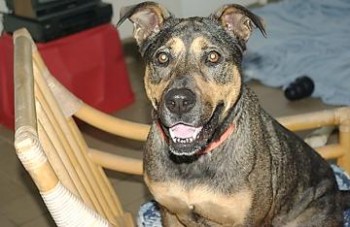 Meet Louise! This seven-year old Rottweiler – Chinese Sharpei mix is living in New York City, courtesy of BideAWee rescue. Here's what their website has to say about her:

This beautiful girl is Louise. Bideawee rescued her from the local municipal shelter, where she had been abandoned by her owner, just before she was out of time. Louise is a sweet and smart girl, who has a great deal of strength, and needs to go home to an obedience minded individual who can continue to teach her how to walk properly on lead. Louise, sadly, suffers from a possible skin allergy, and is on a special diet to help keep her skin and coat in optimal condition. However, she is doing wonderfully on the food, and is all ready to find a great home. We just know that Louise will be the love of your life, if only you'll give her the second chance she so needs. Won't you please consider this amazing girl?
Louise is at BideAWee's Westhampton site. If you're interested in meeting her and all of her friends, send an e-mail to [email protected] or call 866-262-8133.
If you're not going to be near the city that never sleeps, check out PetFinder's Shelter Center to find adoptable dogs near you.
Until next time,
Good day, and good dog!
Similar Posts: