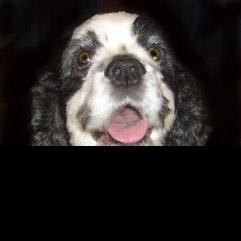 Meet Snuggy!  Snuggy is currently living in a foster home in Colorado Springs, CO.  SafePlace Pets has a rather unique mission, serving not only pets, but people too.  They take in pets whose parents can no longer keep them due to a terminal illness.  What a relief it would be if you found yourself coping with your own impending death and along comes an organization who can take at least one worry off your mind.
Back to Snuggy.  Here's how SafePlace Pets describes her.
Look at me adoring you! Im a sweet, 6 year old, black and white, female Cocker Spaniel who gets along with other dogs but cats? Not so much. I admit that I could lose a few pounds but I am in great health and live up to my name. Naturally, kids love me (who wouldnt?) but Im best with the over 6 crowd. Color me waiting for you!
If you're going to be near Colorado Springs, why not contact SafePlace to arrange a visit with Snuggy and all of her friends.  Call (719) 359-0201 or send an e-mail to [email protected]
If you're somewhere else, check out PetFinder's Shelter Center to find adoptable dogs near you.
Until next time,
Good day, and good dog!
Similar Posts: