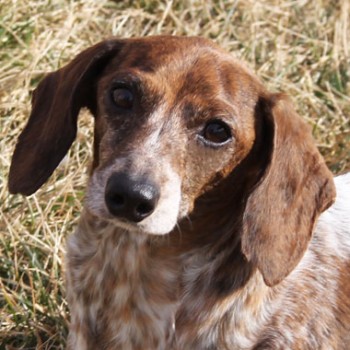 Look at this face! Meet Hansel. He is currently living in Nebraska at Hearts United for Animals shelter. Here's what their website has to say about him and his best friend, Gretel.

For close to five years, Hansel and Gretel lived in puppy mills. They were bounced around and sold between millers because of their stellar production. What they went through before they finally made it to HUA is something we cannot even fathom. Somehow, Hansel has found the strength and courage to leave his past in the past, and he means to live the rest of his life as a happy, trusting and friendly fellow. He likes hanging out with us here at the shelter, and he has made many terrific friends. Hansel is taking advantage of every second of his freedom. We are thrilled with his progress and couldn't be more proud of this adorable little guy. Due to chronic dry eye, Hansel will have to use eye drops for the rest of his life. He is a good boy when we give him his medicine as he knows it makes him feel all better. Other than that, he was given a completely clean bill of health and is ready to bounce into his very own home and begin the celebration that will last forever.
If you're going to be near Nebraska, why not contact Hearts United for Animals and ask to meet Hansel, Gretel, and all of their friends. (By the way, HUA specializes in long distance adoptions, so contact them even if you're not in Nebraska!)
Don't see a dog you like on their site? Check out Petfinder's Shelter Center for lots more adoptable dogs, some from right in your neighborhood!
Until next time,
Good day, and good dog!

Similar Posts: