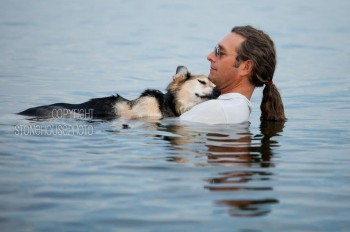 How many of you remember this wonderful picture, taken by photographer Hannah Stonehouse Hudson of StonehousePhoto? John Unger of Bayfield, Wisconsin, often took his elderly dog, Schoep, into Lake Superior to float away some of his arthritic pain.
After this photo first took the Internet by storm, the pair's Facebook page gathered over 300,000 "likes".
We're sad to report that Schoep has crossed the Rainbow bridge. He was 20 when he died in mid-July, 2013. Our deepest condolences to John and all those who loved this beautiful dog.
Check out Hannah Stonehouse Hudson's photo blog to see more of her wonderful work.
Found a video tribute on YouTube:
(Excellent song – always makes me cry, though.)
Until next time,
Good day, and good dog!
Similar Posts: