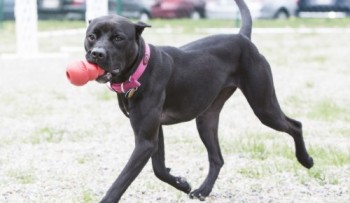 The Kong Company's blog had a great list of tips for improving the chances of a successful adoption of a shelter dog to celebrate October as Adopt a Shelter Dog Month. You can get more in-depth details from blogger Michael Baugh, a dog training advisor here. Below is the Reader's Digest version.
10. Adopt for personality, not looks.
9. Take the time to get to know your prospective dog.
8. Establish a relationship with a vet and a certified trainer.
7. Try to arrange a meeting between the dog you already have at home and the dog you hope to adopt.
6. Don't be afraid to say no if the match doesn't feel right.
5. Have a plan for getting the dog safely home.
4. Have your supplies ready at home.
3. Let your dog get to know your home one room at a time.
2. Set a routine, especially for potty training.
1. Teach your dog what matters to you.
Now that you know all the tricks of the trade, get out there and bring home your very own shelter dog!
Until next time,
Good day, and good dog!

Similar Posts: