Did you know?  May 4th – 10th is not only Be Kind to Animals Week, it is also National Pet Week.  AND, the month of May has been designated as "Go Fetch!  Food Drive for Homeless Animals Month."  So why not consider fetching some food and taking it to your local shelter.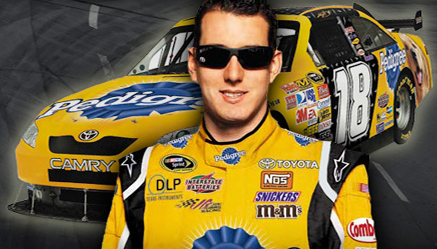 Even NASCAR star Kyle Busch is getting involved in helping shelter dogs. 
According to this story on FoxBusiness.com, http://www.DogsRule.com will be taking pledges from people who want to sponsor any number of miles of Busch's Sprint Cup races between May 1st and October 15th, 2008.  The program, called Kyle's Miles and co-sponsored by Pedigree®, hopes to raise $100,000 for the Pedigree® Adoption Drive Foundation.  This is the fourth year Pedigree® has sponsored an Adoption Drive.  Those who agree to sponsor miles will be entered in a sweepstakes to win a trip for two to Phoenix to meet Kyle Busch at the Checker Auto Parts 500 on November 9, 2008.  The minimum donation is $10.  Go, Kyle, Go!
In other shelter news, Macoupin County (near St. Louis) has found an innovative way to encourage adoption of older shelter pets.  Director Lorraine Jackson likes to take older dogs with her to adoption events, but had a hard time getting them to behave.  The shelter now puts every dog through six weeks of obedience training at Cindy's Critter Camp in Maryville to make sure these dogs are on their best behavior when meeting prospective owners.  Adoption rates are going up, meaning euthanasias are going down.  Kudos to Lorraine for teaching old dogs new tricks and to Cindy Kuschel and master trainer John Dahman for providing the training for free!  See the story from the Collinsville Herald here.
Do you know anything about your local shelter?  Why not spend a few days volunteering – there are always dogs that need to be walked, and that provides good exercise for you as well!  When you run across good ideas for improving adoption rates, drop an e-mail to [email protected] and let me know, so we can share it with others.
Until next time,
Good day, and good dog!
Similar Posts: