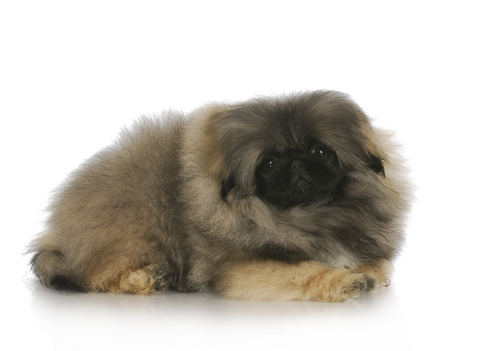 Somehow I totally missed this controversy last week – I think I was suffering from lack of sleep and excitement overload over the Westminster show.

Anyways, as you may know, Pedigree Dog Food has been a major sponsor of the show for the past 24 years. In return for their financial contributions, they were given air time for commercials during the show. These commercials often featured shelter dogs, with the support of dog shelters being a big part of their company culture.
The powers that be at Westminster Kennel Club decided that shelter dogs were not a big part of their culture, and switched the sponsorship this year to Purina Pro Plan. As I stated last week, the "Inside every good dog is a great dog" was my favorite commercial during the two nights of Westminster. It was played over and over, and got me a little choked up every time.
I didn't remember that the Pedigree commercials in previous years had been very moving. After reading this article from the OC Register, now I do remember the "Every Dog is a Champion" spots where they donated a bowl of dog food to a shelter for every story someone shared about a dog adoption on their website.
So, commercials from both companies were moving, but bloggers and rescuers throughout the Twitterverse and Facebook are complaining about the switch of sponsors.
I have a little bit of a different take on the situation. The Westminster Kennel Club can take money for advertising from whomever they wish. In my opinion, you ought to take money from people who support the same causes you do, as a company.
There was never a good match between the corporate values of Pedigree and an organization that promotes purebreds at the expense of all others. The Boston Globe calls this the "1% of the dog world." Whether or not you agree that show dogs are somehow "better" than the commoners at your house and mine really isn't the issue.
To me, the better question to ask is why Pedigree partnered with the Westminster show for as long as they did. When I contribute money, either from my personal funds or my corporate account, I seek out organizations who match my personal values. I donate mostly to charities that work with disabled children because that is near and dear to my heart. I would never donate to an organization that promoted cigarette smoking, for example, because it is something that I believe is wrong.
So, I have to ask why Pedigree would support Westminster, rather than asking why Westminster dropped Pedigree.
What's your take on this issue? Is the hullabaloo justified? Should Westminster have looked for a sponsor (Pedigree or otherwise) who would present commercials about purebreds or commercials about shelter dogs (which may or may not be purebred)?
Until next time,
Good day, and good dog!
Similar Posts: