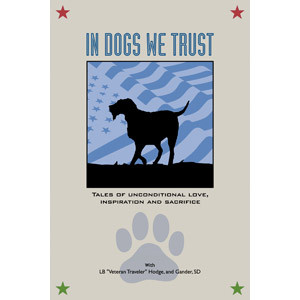 Veteran Traveler is promoting a new book called "In Dogs We Trust: Tales of Canine Love, Inspiration, and Service".

The book is a compilation of stories by dog lovers from a wide variety of backgrounds. I haven't read it yet, but here's what one reviewer said:
"If you love dogs even half as much as we do this book will touch every emotion you carry. The stories are all true. Each one will pull you in and keep you involved until the very last word."
Buy now on the Veterans Traveler site and say who sent you and 50% of the purchase price will go immediately to your favorite cause. Clear Conscience Pet will give you a $10 gift certificate, towards its award winning pet treats, including Sliders® and SuperGravy®.
Until next time,
Good day, and good dog!
Similar Posts: