When Boulder, Colorado, officials enacted a law in 1953 to stop people from coloring chicks and bunnies for Easter, we're not sure they intended this consequence…
The Humane Society of Boulder Valley cited Joy Douglas for dyeing her poodle, Cici, pink.  Although Humane Society vets admit that the chemicals in the dye likely did no harm to the dog, they were concerned that the dog may have been restrained while her fur was colored.
Obviously, they've never seen most of us giving our dogs a bath.  Maybe we should just leave them muddy rather than restrain them in the tub!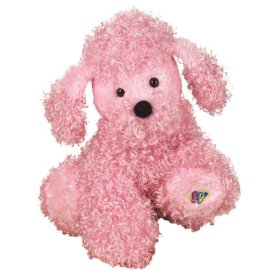 BTW, when I was looking for a picture of a pink poodle to include with this post, I was amazed at how many dyed poodle pictures are available! But, just for those of you who agree with the Boulder officials, I included only a fake one. (Besides, this stuffed animal reminds me of the one my sister slept with until after she was married!)
Until next time,
Good day, and good dog!

Similar Posts: