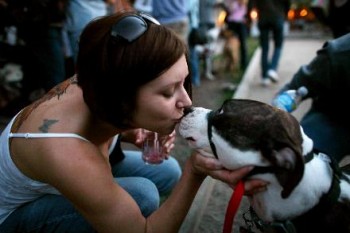 By TOM HORGAN, Minneapolis-St. Paul, Minnesota StarTribune.com
Talk about party animals — a rowdy crowd of sloppy-faced, touchy-feely revelers regularly takes over the Nomad World Pub.
Guaranteed: You've never seen this much butt-sniffing in a bar in your entire life.
But what else would you expect? Every month or so, the Nomad World Pub literally goes to the dogs, with more than 50 canines and their owners invading the Minneapolis bar for a night unlike any other.
The parties are put on by K9-Connection, a company that brings dog lovers together through fun events such as speed-dating and singles mixers — with their dogs, of course.
Last Thursday, the company hosted a social party at the Nomad called "Beer With Your Buddy," where dog owners sat back and sipped brews while their pooches ran around in the bar's gated patio. Off-leash, the dogs were free to greet each other in the best way they know how: the aforementioned all-out private-parts sniff fest. Just try doing that to someone at the club tonight.
No doggie bouncer was needed, however, as the pooches — from giant Great Danes to little wiener dogs — spent two hours running, jumping and wrestling as if their lives depended on it.
Dog owner Sarah Miller and her two friends stood in awe as they took in this chaotic scene. It was their first K9-Connection event.
The small ball of brown fur standing at Miller's feet, a Yorkshire terrier named Lacey Lou, looked equally in awe.
"I'm glad I got her hair done before I brought her to the party," said Miller, 25, of Shoreview.
K9-Connection's owner, Angie Gwiazdon, said she created the event to bring dog lovers together. By day, she is a licensed marriage and family therapist.
"Dog people tend to be kind, caring, compassionate and fun," Gwiazdon said. "Just like their canine counterparts."
Leslie Gross, of Minneapolis, said K9-Connection helped her meet new friends after she moved here from Atlanta last year.
"Being at the bar with your dog — that rocks," she said, as her big, chocolate Labradoodle bounced around the bar's patio.
Similar Posts: