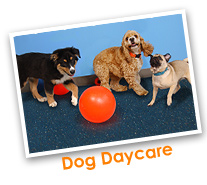 (Picture courtesy Dogtopia.)
Thinking about taking your dog to day care, but worried about the price?  The Wall Street Journal recently did some research on the topic and quoted average prices.
The average across the five day cares tested was $20 – $35, with different facilities offering different add-ons.
In New York, the Happy Paws Pet Resort will transport your dog to and from the facility for $16 each way.  The also offer pet insurance for $1, which would cover vet fees for any injuries up to $1,000.  The daily rate is $35 – $45, depending on the dog's size.  Discounts and specials are available.
Dogtopia, in Virginia has a 2-hour nap time (in individual crates) and does a pretty thorough temperament test before allowing the dog into the general population.  They charge $15 for an evaluation and $35 per day.  Discounts available.
Pooch Chicago has a "ritzy spa-like feel and is designed to look like a limestone mansion, with high ceilings and dark gray walls."  They offer a 30-minute hot tub swim for $30, as well as aromatherapy and facials.  The price?  $30 per day, with a discount for bulk purchases.
Also in Chicago, the PetSmart PetsHotel offers a "Bone Booth" to allow your dog to talk to you on the phone while you are away.  They have an on-site veterinarian, but you have to sign a waiver that says they do not offer insurance or take responsiblity for dogs that get sick in their care.  The rate is just $20 per day.
Finally, Camp Bow Wow in Dallas has four different play areas to accomodate dogs of different sizes.  Each indoor pen opens into an outdoor pen, and the dogs can come and go between the pens as they please.  The rate is $22 per day, with a discount of $7 per day for the second dog from the same family.
Have you taken your dog to day care?  How did he like it?  What did you think?  Please post your comments below.
Until next time,
Good day, and good dog!

Similar Posts: