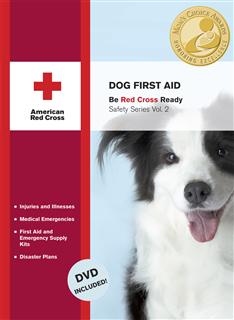 October is National Pet Safety & Wellness Month, so I thought you might be interested in this training guide from the Red Cross store: 
Dog First Aid is a valuable resource for dog owners as well as dog handlers for therapy dogs, police K-9 units and search and rescue units.
The new manual includes information for dogs and puppies of all sizes, how to keep them healthy, prepare for an emergency, how to recognize and respond to a medical emergency until veterinary care is available.
Dog First Aid is bundled with a DVD in the back cover that demonstrates how to perform many of the first aid steps described in the book. To view a clip, click here. The DVD is closed captioned for the hearing impaired. (Video Running Time: 30 minutes, 32 seconds)
Topics covered include:
Symptoms and care for common ailments and emergencies
Instructions for creating a pet first aid kit, giving medications and how to recognize emergencies
Tips on maintaining your pet's health and well-being
First aid guidance on caring for nearly 70 canine health conditions
Shop here today!  Single copy price is $16.95, with some bulk discounts available.
Until next time,
Good day, and good dog!
Similar Posts: