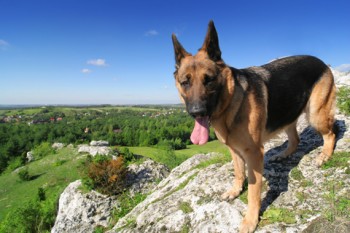 From Greeley, Colorado:  We all know dogs are man's best friend, but have you ever wondered just how far your dog's loyalty goes?  Jake Baysinger, unfortunately, will never know, but his family sure will.  Cash, a 3-year old German Shepherd stayed by Baysinger's body for 6 weeks after the man committed suicide, guarding it from coyote attacks.
KMGH-TV in Denver reported that Baysinger was reported missing on June 28th, along with Cash the dog.  The Weld County Deputy Coroner has ruled Baysinger's death a suicide, stating that he probably died the same day he went missing in the Pawnee National Grassland.  Cash likely left the body only to hunt for small game to keep her alive during her 40-day vigil.
The family and authorities launched an aerial search, but failed to turn up any clues over the six-week period that Baysinger was missing.  However, an area rancher spotted Cash, went to investigate, and discovered the man's body.  Sara Baysinger, the widow of Jake says that Cash has "been such a good dog.  I knew that if she was there, she was doing her best to take care of Jake."  After the discovery of her husband's body, Sara states, "It was a relief to know that there's an end and that we still have a part of Jake," adding that having Cash lead them to the body gave the family some closure.
The Weld County Humane Society checked Cash over and pronounced her just a bit dehydrated and underweight, but otherwise healthy.  What a great dog!
Until next time,
Good day, and good dog!
Similar Posts: