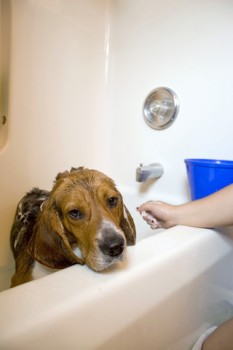 Have you seen the news out of Knoxville, TN, about a groomer who has had several dogs die in his care?  Most recently, Moxie, a five-year old Beagle, died after being bathed at Happy Tails Grooming.   While the groomer says the dog had a seizure, an autopsy showed heat exhaustion as well as broken ribs and a punctured liver.
According to the groomer, Moxie was always difficult to care for, and she bit the groomer when he attempted to lift her out of the tub.  He denies flinging the dog, saying, "I wouldn't be doing this if I didn't love these [pets]."  The groomer also denies using cage dryers, which in the past have been associated with heat exhaustion.  He states that the establishment uses only handheld units.
In turn, the family's vet states that although many Beagles are very vocal, they are "wimps", and that Moxie was never a biting dog.  She also states that the autopsy revealed multiple points of trauma, including bruising to the dog's ear and gum tissue.  The official cause of death was hemorrhaging due to the punctured liver.
A review of Knox County Circuit Court cases indicates three pending lawsuits against Happy Tails for deaths in 2005, 2007, and early 2008.  One was due to an incorrect medication being given, while the other two were heat-related.  The attorney handling the cases, Steve Gillman, states, "When you string all these incidents together, it certainly does make you wonder what's going on over there."
So, what about it, readers?  Did you do any sort of a background check before hiring a groomer?  Have you had a problems?
Until next time,
Good day, and good dog!
Similar Posts: