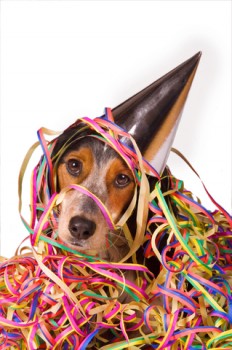 Heads up!  April 18th is National Pet Owner's Day!  My credo is "Any reason for a party", so I'm looking forward to it.
How will you celebrate?  I suggest the following:
Take your dog for a long walk.
Play Frisbee at the park with your dog.
Rub your dog's belly.
Play tug with your dog.
Schedule a long-overdue vet appointment – it's flea and heartworm season, after all.
Spay or neuter your dog.
Make your own dog treats (recipe below).
Ingredients:
1 lb. chicken liver
2 eggs
2 tablespoons molasses
1 1/2 cups cornmeal
1/2 cup dried milk
Instructions:
Combine all ingredients in a blender and blend until smooth. Pour onto a baking tray and bake at 400 until the sides start to come away from the pan or a knife comes out clean.
Let it cool, cut into pieces and store in fridge!
Find more cool recipes at homemadedogtreats.net
However you choose to celebrate, we here at doggies.com hope you have fun!
Until next time,
Good day, and good dog!
Similar Posts: