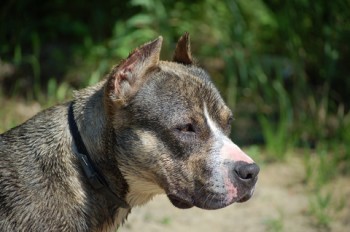 We've talked about this before, how people blame the dog for how his owners train him.  Now, no less of an authority than the United States Marine Corps has joined the fray.
It seems that a 3-year old boy was attacked and killed by a pit bull about a year ago, and there have been 12 reported dog attacks in the past year in base housing at Camp LeJeune.  So, base commander Colonel Richard Flateau, Jr. has issued an order which prohibits full or mixed breeds of Pit Bulls, Rottweilers, wolf dogs, or any breed "with dominant traits of aggression."
Can someone please define that for me?  First of all, doesn't the military train guard dogs to be aggressive?  My other argument would be that any dog, sufficiently provoked, will have a dominant trait of aggression.  For example, my Vizsla, who regularly sleeps under my bed covers and sits on my lap with his head cuddled on my shoulder, bit me the other day because I happened to get in the way when a child was teasing him.  I have a very sore arm with two fairly deep puncture wounds, but does that mean that a Vizsla has a dominant trait of aggression?
Given the fact that the military already has a problem with pets being dropped off at shelters when single service men and women deploy, you would think they would be taking steps to help people keep their pets, rather than forcing them to give them up.  In addition, since studies have shown that having pets actually is therapeutic for people, it seems that returning soldiers, who often suffer from PTSD and depression, should be encouraged to adopt dogs.
In their defense, the brass is not making current residents get rid of their aggressive dogs.  As long as they have an approved pen, current base residents can keep their Pits, but people who move onto base after the effective date of the ban cannot bring a Pit or Rottweiler with them.  Visitors to the base must leave theirs at home.
It is not just the Marines.  Several Army posts, as well as at least one Air Force base, also have bans on these types of dogs. In addition, at least 12 states and many smaller municipalities have breed-specific legislation.
In case you were thinking of enlisting and already have pets, here are the rules at LeJeune:  No pets in the barracks, but if you live in other types of base housing, you can have any combination of dogs or cats, so long as you don't have more than two animals.
Until next time,
Good day, and good dog!
Similar Posts: