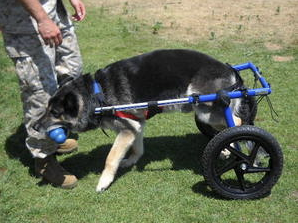 UPDATE:  Rocky was saved today!  Trying to get details.  Please read below for more info.  Pets for Patriots can still use your support!
This is such a sad story – makes me wish I didn't already have a houseful.  Rocky served three tours in Iraq between 2004 and 2007.  His last handler was killed in action, so Rocky was brought back to the States and has been cared for by other members of the unit.  However, now that his back legs are failing, the military will have to put him down unless someone adopts him by August 24th.
From the Pets for Patriots web site:
Like most military working dogs, Rocky is independent, but he has a sweet temperament and enjoys relaxing in the sun. As a result of his disability, he uses a canine wheelchair and needs assistance to do "his business." He would do best in a family that can devote a lot of time to him, and that has no small children or other animals. As with many military canines, Rocky shows slight dog aggression. More than anything, Rocky needs someone who honors his service, and who will love and accept him.
Rocky's known medical conditions:
Benign Prostatic Hyperplasia/Enlarged prostate
Mild hip dysplasia L coxofemoral joint, grade I
Bilateral coxofemoral DJD (mild)
Bilateral neurologic defecits rear legs – degenerative myelopathy
Pressure/kennel sores
Come on, folks.  This dog worked hard to ensure our freedom.  Doesn't he deserve a loving home (maybe with a vet??? – either kind) to serve out his last days?
If you or someone you know has a big heart for this dog who put his life on the line for our country, please contact Camp Pendleton directly and immediately if you have questions about Rocky:
Spc. Joseph Ramsey: (760) 725-5527; email: [email protected]
Spc. Jade Clarke: (760) 725-5527; email: [email protected]
If you'd like to adopt Rocky, please fill out an application online. This will take you to Lackland AFB, which processes all requests for military dog adoptions across the United States armed forces.
Until next time,
Good day, and good dog!

Similar Posts: