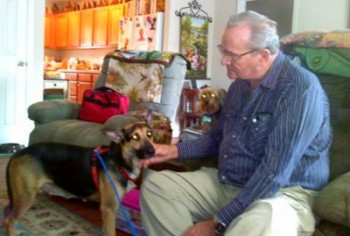 What do you do when you're a Vietnam-era Army Veteran with two Yorkies and your wife asks you to find a big dog to complete the family? If you're Roger, you turn to Pets for Patriots for financial assistance in adopting a dog who might otherwise be overlooked or at risk in a shelter.

When Sugar Bear was brought into the Lake City (Florida) Humane Society, she was very skinny, having given birth to four pups and suffering from heartworm. She was placed on death row, with the shelter intending to euthanize her, after attempting to bite a shelter worker who sprayed her with a hose. To spare her life, she was pulled by a rescue organization, who began looking for a forever home for Sugar Bear.
Enter Roger and his wife, Jacquie, who recognized Sugar Bear as a diamond in the rough. Since bringing her home, "She's put on weight and has a nice, shiny coat," says Jacquie, adding, "She's shown no aggression whatsoever. Euthanizing Sugar Bear would have been a big mistake. She's incredible."
Roger adds, "She's so affectionate with us, but she just doesn't like water sprayed on her. "The person that had Sugar Bear before us has no idea the kind of dog they had. She is the sweetest girl in the world and takes good care of us."
She's even made friends with the Yorkies.
Pets for Patriots is a nationwide charity that delivers the healing power of companion pets to service and veteran members of the United States military. To help these bonds endure, the organization provides a range of financial support and incentives for military personnel who save the most overlooked, at-risk dogs and cats, including discounted veterinary care from local partners.
Until next time,
Good day, and good dog!
Similar Posts: