I just received this from a friend, and I have to admit, I expected the dog to have curly hair and a cheesy mustache when I saw his name, but he's a great looking dog! Help if you can. Thanks.
Magnum is a hound mix – blue tick / tree walker – and was adopted from the Stark County Pound in April to become part of a training program to become an assist dog for people with disabilities. He was doing well in his training, but, unfortunately. he doesn't like to be
with a lot of dogs. He is ok with one, maybe two others. He knows sit, retrieve and he releases the ball easily. Magnum is approximately two years old and is up to date on shots, licensed and neutered. With his $75 adoption fee he is up to date for a year.
Magnum is currently in an over-crowded foster home, but that is better than retuning him to the pound after his adoptive placement failed. He has been temperament tested and his foster home reports that he bonds easily. He plays fetch and is generally a fun dog.
Please call Peace for Pets at 330-484-9537 or 330-753-3900, ext 26 for more information or an adoption application. Leave a message if you don't reach us.
This good boy deserves a family that will love him.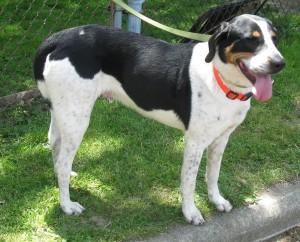 Similar Posts: