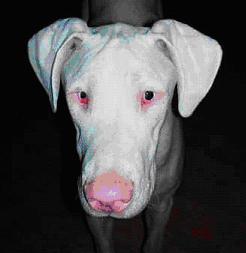 Em is a recent arrival at Deaf Dane Rescue in Oakridge, Oregon. She is 9 months old and very sweet, but she is rather timid. She is a wiggly girl, always wagging her tail so hard her whole body is wiggling. She has some potty training issues which we will be working on. She has peed in the house a few times. She has a hard time holding it all night sometimes. She is a sweet baby and wants so much to please. All she needs is some time, and a loving home.
Deaf Danes Rescue has the daunting task of trying to place Great Danes who have special needs.  According to their site: 
Deaf Dane Rescue Inc. believes it is important to give each dog a head start by not only having experienced people evaluate them, but also by jump-starting their socialization process through the use of immersion techniques. Deaf Dane Rescue Inc. uses a placement contract to protect the dogs and new owners in case there are any problems with a placement, and is always willing to take a dog back after placement for any reason. Deaf Dane Rescue Inc. will assess, train, and if possible, place any special needs Dane. Prior to placement, every Dane will be trained with basic hand commands. We encourage adoptive owners to continue and expand their Dane's training. We believe a well trained dog, that knows what tasks are expected of them, and how to perform those tasks, will be a happy and well adjusted dog. All Danes that go through the Deaf Dane Rescue Inc. program receive intensive socialization, both canine and human. We feel this not only aids in their development, but also helps them to adjust to new and stressful situations more easily. As anyone who has met Delilah, our deaf Dane Ambassador, will tell you, the myths about deaf dogs being nervous, unstable, and prone to biting, are simply not true. At least not if the dog is well trained and has been properly socialized. We include, with each locally adopted Dane, a series of post adoption training sessions, to introduce the adoptive owners to the hand signals their dog has been trained to, as well as to orient them to the needs of their Dane. Follow up assistance is also made available to adopters of special needs dogs. Deaf Dane rescue also offers dog sitting and training services on an as-available basis for any deaf Dane. 
It is the goal of Deaf Dane Rescue Inc. to rescue and re-home those deaf and other special needs Great Danes who are of sound temperament. Deaf Dane Rescue Inc. will take in, as space permits, all special needs Great Danes, regardless of age, temperament, medical or behavioral problems, although this does not necessarily guarantee that these animals will be placed. If an animal is found to be unsuitable for adoption, the animal will either remain with a member of Deaf Dane Rescue Inc. to live out its natural life, or it will be euthanized humanely with the dignity, kindness and respect afforded a cherished family pet. The criteria for euthanization will always be safety and quality of life. Whatever the situation dictates, we are dedicated to maintaining the safety and well being of our foster homes, their pets, our rescues, our adoptive families, and the general public.
If you can help out one of these gentle giants, please contact Deaf Danes Rescue directly (e-mail:   ddri AT gracieland DOT org), phone:  541-782-2242).  And, if you're looking for a shelter closer to home, check out PetFinder's Shelter Listing.
Until next time,
Good day, and good dog!
Similar Posts: