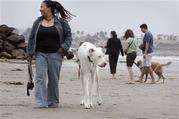 Titan, a four-year old Great Dane from San Diego, has been named as the world's tallest dog, succeeding Gibson who passed away earlier this year after a brave struggle against bone cancer. 
Unfortunately, Titan is not without health problems, either.  This white Great Dane, as most whites of the breed, is afflicted with epilepsy and can neither see nor hear.  His human, Diana Taylor, notes that some breeders try to pass off white Great Danes as exotic and rare, when in truth they are a genetic anomaly.  The same gene mutation that makes them white also makes them often blind and deaf.
Titan measures 42.25 inches at the withers (shoulders) and weighs 190 pounds.  He was adopted as a puppy from the Middle Tennessee Great Dane Rescue, where he had been abandoned after his first family realized he had health problems.  His companion, Ari, is also a deaf white Great Dane and stands 38 inches tall.
Describing her gentle giant, Ms. Taylor has this to say:   "Titan is magical.  He's low-key, calm and has a wonderful demeanor about him. He gets along with all dogs, even the tiny ones … He's also great to travel with. We've gone across the country twice."
Congratulations to Titan and best wishes for improved health.
Until next time,
Good day, and good dog!
Similar Posts: