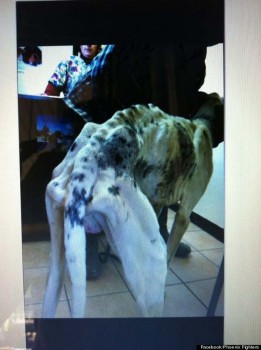 When UPS driver Gavin Crowsley first saw this dog, he thought it was a Dalmatian. Sadly, no, Phoenix was a terribly emaciated Great Dane, down to just 70 pounds.

Phoenix was chained up with no shelter, food, or water, and Gavin just knew he had to stop to help. "I could see every bone in his body," he told his employer. "He was just lying there. I knew if that dog didn't die from starvation, he was going to die from the weather. I didn't want to have a confrontation, but I couldn't just leave him there."
Gavin called the local humane society, who nursed Phoenix back to health and found him a loving home. Although the dog is totally deaf and blind in one eye, he is enjoying life visiting nursing homes and running in 5K's to raise money for the Clay County (Indiana) Humane Society. He's now back to his fighting weight of 160 pounds.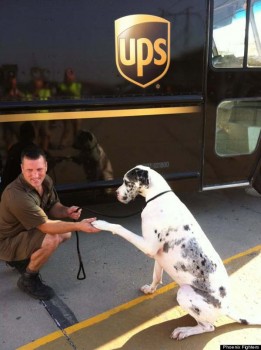 Check out Phoenix' Facebook page for more pictures of this amazing dog.
Until next time,
Good day, and good dog!
Similar Posts: