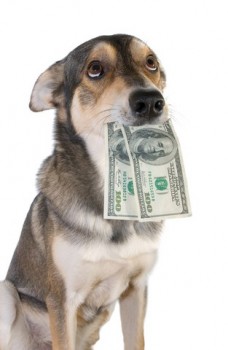 What do you give the dog lover on your list who already has everything?  Why not make a donation to a pet charity in their name.  And how do you know if the charity is a good one or simply a scam?  We've done all the work for you!  The following ten charities are listed as 4-star organizations by Charity Navigator, based on their efficiency at using your money wisely and on their ability for future growth.  (More details on their methodology here.)
There are many worthwhile charities on the list, so to narrow it down for you, we eliminated all of the local Humane Societies and ASPCA shelters.  These groups can always use your support, but we thought that was rather obvious, so we eliminated them from the list to get it down to ten charities.  Links are provide to each group's web site to facilitate your gift-giving.
Without further ado, then, here is our list of the top ten animal welfare charities in the United States.
10.  PetSmart Charities:   Saving the lives of homeless pets is the heart and soul of everything we do in our Vision of a lifelong, loving home for every pet.
9.  North Carolina Veterinary Medical Foundation: a part of NC State College of Veterinary Medicine, providing financial assistance that helps promote educational activities and research.
8.  Puppies Behind Bars:  trains inmates to raise puppies to become service dogs for the disabled and explosive detection canines for law enforcement.
7.  Fidelco Guide Dog Foundation:  an internationally-recognized leader in the guide dog industry.
6.  Dogs for the Deaf:  rescuing homeless dogs and professionally training them to enhance lives.
5.  Canine Partners for Life:  trains and places assistance dogs with individuals with mobility impairments to help increase their independence and quality of life.
4.  Morris Animal Foundation:  research to protect, treat, and cure animals.
3.  American Kennel Club Canine Health Foundation:  dedicated to the well-being of dogs.
2.  Guide Dog Foundation for the Blind:   improving the quality of life for people who are blind, visually impaired, or with other special needs. 
1.  National Education for Assistance Dog Services (NEADS):   established in1976 to train and provide rescued dogs and donated puppies to assist people who are deaf or physically disabled in leading more independent lives at work, at home and at school.
Most charities will send an acknowledgement to the person in whose name you have given the gift.
Until next time,
Good day, and good dog!

Similar Posts: